About Us
Scoffs Fish Bar & Pizzeria is a Fish & Chips takeaway in Bilston. Why don't you try our Sauce or Chips?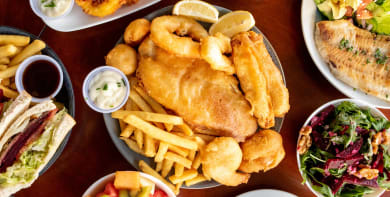 Reviews
230 reviews
Jade
"Lovely food! Fast delivery and polite driver too. Pulled pork in gravy is so nice"
11/07/2020
Craig
"Bostin food, generous portions, super fast delivery and value for money"
09/07/2020
Clare
"Very top quality of products and decent range."
03/07/2020
Gloria
"Injoy meal still warm when it game on time shall order again"
19/06/2020
Menu
Vegetarian Burger With Cheese
Vegetarian burger & a choice of salad & Sauce
£2.20
Vegetarian Burger Without Cheese
Vegetarian burger & a choice of salad & Sauce
£2.00
Half Pounder Burger
2 x Quarter pounder burgers & a choice of salad & sauce
£3.40
Half Pounder Cheeseburger
2 x Quarter pounder burgers with cheese & a choice of salad & sauce
£3.60
Classic Burger
Quarter pounder burger & a choice of salad & sauce
£2.40
Chicken Fillet Zinger Burger With Cheese
Chicken fillet zinger burger & a choice of salad & sauce
£2.40
Chicken Fillet Zinger Burger Without Cheese
Chicken fillet zinger burger & a choice of salad & sauce
£2.20
Cheeseburger
Quarter pounder burger with cheese & a choice of salad & sauce
£2.60
BBQ Beef 12" Deep Pan
BBQ sauce, beef, onions & sweetcorn
£7.95
BBQ Beef 12" Thin Crust
BBQ sauce, beef, onions & sweetcorn
£7.95
BBQ Beef 9" Small
BBQ sauce, beef, onions & sweetcorn
£4.75
BBQ Beef XL Quad
BBQ sauce, beef, onions & sweetcorn
£9.95
BBQ Chicken 12" Deep Pan
BBQ sauce, chicken, onions & sweetcorn
£7.95
BBQ Chicken 12" Thin Crust
BBQ sauce, chicken, onions & sweetcorn
£7.95
BBQ Chicken 9" Small
BBQ sauce, chicken, onions & sweetcorn
£4.75
BBQ Chicken XL Quad
BBQ sauce, chicken, onions & sweetcorn
£9.95
Ham & Mushrooms 12" Deep Pan
Ham & mushrooms
£6.95
Ham & Mushrooms 12" Thin Crust
Ham & mushrooms
£6.95
Ham & Mushrooms 9" Small
Ham & mushrooms
£4.25
Ham & Mushrooms XL Quad
Ham & mushrooms
£8.95
Hawaiian Paradise 12" Deep Pan
Ham & pineapple
£6.95
Hawaiian Paradise 12" Thin Crust
Ham & pineapple
£6.95
Hawaiian Paradise 9" Small
Ham & pineapple
£4.25
Hawaiian Paradise XL Quad
Ham & pineapple
£8.95
Flamethrower 12" Deep Pan
Pepperoni, spicy beef, onions & jalapenos
Hot
£7.95
Flamethrower 12" Thin Crust
Pepperoni, spicy beef, onions & jalapenos
Hot
£7.95
Flamethrower 9" Small
Pepperoni, spicy beef, onions & jalapenos
Hot
£4.75
Flamethrower XL Quad
Pepperoni, spicy beef, onions & jalapenos
Hot
£9.95
Farmhouse 12" Deep Pan
Mushrooms, onions, tomato slices & green peppers
Vegetarian
£7.95
Farmhouse 12" Thin Crust
Mushrooms, onions, tomato slices & green peppers
Vegetarian
£7.95
Farmhouse 9" Small
Mushrooms, onions, tomato slices & green peppers
Vegetarian
£4.75
Farmhouse XL Quad
Mushrooms, onions, tomato slices & green peppers
Vegetarian
£9.95
Pepperoni Plus 12" Deep Pan
Pepperoni, onions & green peppers
Hot
£7.95
Pepperoni Plus 12" Thin Crust
Pepperoni, onions & green peppers
Hot
£7.95
Pepperoni Plus 9" Small
Pepperoni, onions & green peppers
Hot
£4.75
Pepperoni Plus XL Quad
Pepperoni, onions & green peppers
Hot
£9.95
Piri Piri Chicken 12" Deep Pan
Piri piri sauce, chicken, mushrooms, onions & green peppers
Hot
£7.95
Piri Piri Chicken 12" Thin Crust
Piri piri sauce, chicken, mushrooms, onions & green peppers
Hot
£7.95
Piri Piri Chicken 9" Small
Piri piri sauce, chicken, mushrooms, onions & green peppers
Hot
£4.75
Piri Piri Chicken XL Quad
Piri piri sauce, chicken, mushrooms, onions & green peppers
Hot
£9.95
Kebab King 12" Deep Pan
3 Types of kebab meat, onions & peppers
£7.95
Kebab King 12" Thin Crust
3 Types of kebab meat, onions & peppers
£7.95
Kebab King 9" Small
3 Types of kebab meat, onions & peppers
£4.75
Kebab King XL Quad
3 Types of kebab meat, onions & peppers
£9.95
Margherita 12" Deep Pan
100% Cheese & our special blended sauce
Vegetarian
£5.95
Margherita 12" Thin Crust
100% Cheese & our special blended sauce
Vegetarian
£5.95
Margherita 9" Small
100% Cheese & our special blended sauce
Vegetarian
£3.45
Margherita XL Quad
100% Cheese & our special blended sauce
Vegetarian
£7.95
Meat Supreme 12" Deep Pan
The meaty one! Pepperoni, ham, spicy beef & chicken
£7.95
Meat Supreme 12" Thin Crust
The meaty one! Pepperoni, ham, spicy beef & chicken
£7.95
Meat Supreme 9" Small
The meaty one! Pepperoni, ham, spicy beef & chicken
£4.75
Meat Supreme XL Quad
The meaty one! Pepperoni, ham, spicy beef & chicken
£9.95
Vegetable Inferno 12" Deep Pan
Onions, green peppers, mushrooms & jalapenos
Vegetarian
Hot
£7.95
Vegetable Inferno 12" Thin Crust
Onions, green peppers, mushrooms & jalapenos
Vegetarian
Hot
£7.95
Vegetable Inferno 9" Small
Onions, green peppers, mushrooms & jalapenos
Vegetarian
Hot
£4.75
Vegetable Inferno XL Quad
Onions, green peppers, mushrooms & jalapenos
Vegetarian
Hot
£9.95
Mixed Kebab (2 Meats) Bun
2 Meats
£2.70
Mixed Kebab (2 Meats) Chips
2 Meats
£4.20
Mixed Kebab (2 Meats) Chips & Salad
2 Meats
£4.20
Mixed Kebab (2 Meats) Large Pitta Bread
2 Meats
£4.50
Mixed Kebab (2 Meats) Meat No Salad
2 Meats
£3.50
Mixed Kebab (2 Meats) Naan Bread
2 Meats
£4.50
Mixed Kebab (2 Meats) Wrap
2 Meats
£3.20
Mixed Kebab (3 Meats) Bun
£2.80
Mixed Kebab (3 Meats) Chips
£4.40
Mixed Kebab (3 Meats) Chips & Salad
£4.40
Mixed Kebab (3 Meats) Large Pitta Bread
£4.70
Mixed Kebab (3 Meats) Meat No Salad
£3.70
Mixed Kebab (3 Meats) Naan Bread
£4.80
Mixed Kebab (3 Meats) Wrap
£3.30
Donner Kebab Chips & Salad
£4.00
Donner Kebab Large Pitta Bread
£4.10
Chicken Kebab Chips & Salad
£4.30
Chicken Kebab Large Pitta Bread
£4.30
Chicken Kebab Meat No Salad
£3.50
Chicken Tikka Kebab Chips
£4.00
Chicken Tikka Kebab Chips & Salad
£4.00
Chicken Tikka Kebab Large Pitta Bread
£4.30
Chicken Tikka Kebab Meat No Salad
£3.50
Chicken Tikka Kebab Naan Bread
£4.40
Topping Mediterannean Chicken
Mediterranean Chicken Kebab
Chicken & Ham Melt Wrap
Sauce, chicken, ham, cheese & mayo
£2.70
Flamethrower Melt Wrap
Sauce, cheese, pepperoni, spicy beef, onions & jalapenos
£2.70
Pepperoni Melt Wrap
Pepperoni, onions, cheese & sauce
£2.70
Roasted Vegetable Melt Wrap
Onions, mushrooms, red & green peppers & cheese
£2.70
Meatball Melt Wrap
Spicy beef, onions, cheese & sauce
£2.70
Southern Fried Brest Fillets (2)
£0.99
Six Chicken Nuggets Fillet Breast
£1.99
Spit Roast Chicken Half Chicken
£3.90
Spit Roast Chicken Quarter Breast
£2.40
Spit Roast Chicken Quarter Leg
£2.20
Spit Roast Chicken Whole Chicken
£5.50
Cheesy Garlic Bread
4 Slices topped with mozzarella
£2.50
Garlic Bread
4 Slices of traditional garlic bread
£2.00
Hot Wings (3) BBQ
Finger lickin wings. Regular, BBQ OR piri piri
£0.99
Hot Wings (3) Piri Piri
Finger lickin wings. Regular, BBQ OR piri piri
£0.99
Hot Wings (3) Regular
Finger lickin wings. Regular, BBQ OR piri piri
£0.99
Southern Fried Chicken Fillet Strips
3 pieces
£0.99
Faggots, Chips, Peas & Gravy
£3.10
Mixed Pork & Chicken - Chips
£3.80
Fanta Fruit Twist - 0.33L
£0.75
Kids Fish Bites (3) With Funbox & Toy
£2.49
Kids Fish Bites (3) Without Funbox & Toy
£1.99
Kids Jumbo Sausage With Funbox & Toy
£2.49
Kids Jumbo Sausage Without Funbox & Toy
£1.99
Kids Nuggets (3) With Funbox & Toy
£2.49
Kids Nuggets (3) Without Funbox & Toy
£1.99
Kids Roe With Funbox & Toy
£2.49
Kids Roe Without Funbox & Toy
£1.99
Meal Deal 1 Curry
4 Fish bites & chips
£2.50
Meal Deal 1 Gravy
4 Fish bites & chips
£2.50
Meal Deal 1 No Peas, Curry Or Gravy
4 Fish bites & chips
£2.50
Meal Deal 1 Peas
4 Fish bites & chips
£2.50
Meal Deal 10 No Stuffing
Chicken, chips & gravy
£3.60
Meal Deal 10 With Stuffing
Chicken, chips & gravy
£3.60
Meal Deal 11 Mediterranean
Small chicken kebab meat & chips
£3.60
Meal Deal 11 Tikka
Small chicken kebab meat & chips
£3.60
Meal Deal 12 Curry
Mini fish, sausage & chips
£3.60
Meal Deal 12 Gravy
Mini fish, sausage & chips
£3.60
Meal Deal 12 No Peas, Curry Or Gravy
Mini fish, sausage & chips
£3.60
Meal Deal 12 Peas
Mini fish, sausage & chips
£3.60
Meal Deal 13 Curry
Any pie & chips
£3.60
Meal Deal 13 Gravy
Any pie & chips
£3.60
Meal Deal 13 No Peas, Curry Or Gravy
Any pie & chips
£3.60
Meal Deal 13 Peas
Any pie & chips
£3.60
Meal Deal 14 Curry
2 Pieces of southern fried chicken & chips
£3.60
Meal Deal 14 Gravy
2 Pieces of southern fried chicken & chips
£3.60
Meal Deal 14 No Peas, Curry Or Gravy
2 Pieces of southern fried chicken & chips
£3.60
Meal Deal 14 Peas
2 Pieces of southern fried chicken & chips
£3.60
Meal Deal 15
Chinese chicken curry & chips
£3.60
Meal Deal 2 Curry
Tinned roe & chips
£2.50
Meal Deal 2 Gravy
Tinned roe & chips
£2.50
Meal Deal 2 No Peas, Curry Or Gravy
Tinned roe & chips
£2.50
Meal Deal 2 Peas
Tinned roe & chips
£2.50
Meal Deal 3 Curry
Jumbo sausage & chips
£2.50
Meal Deal 3 Gravy
Jumbo sausage & chips
£2.50
Meal Deal 3 No Peas, Curry Or Gravy
Jumbo sausage & chips
£2.50
Meal Deal 3 Peas
Jumbo sausage & chips
£2.50
Meal Deal 4 Curry
1 Piece of southern fried chicken & chips
£2.50
Meal Deal 4 Gravy
1 Piece of southern fried chicken & chips
£2.50
Meal Deal 4 No Peas, Curry Or Gravy
1 Piece of southern fried chicken & chips
£2.50
Meal Deal 4 Peas
1 Piece of southern fried chicken & chips
£2.50
Meal Deal 5
Donner meat & chips
£3.00
Meal Deal 6 Curry
4 Fish bites, sausage & chips
£3.00
Meal Deal 6 Gravy
4 Fish bites, sausage & chips
£3.00
Meal Deal 6 No Peas, Curry Or Gravy
4 Fish bites, sausage & chips
£3.00
Meal Deal 6 Peas
4 Fish bites, sausage & chips
£3.00
Meal Deal 7 Curry
Tinned roe, sausage & chips
£3.00
Meal Deal 7 Gravy
Tinned roe, sausage & chips
£3.00
Meal Deal 7 No Peas, Curry Or Gravy
Tinned roe, sausage & chips
£3.00
Meal Deal 7 Peas
Tinned roe, sausage & chips
£3.00
Meal Deal 8
Any 9" pizza with your own 3 toppings & chips
£4.95
Meal Deal 9 No Stuffing
Pork, chips & gravy
£3.60
Meal Deal 9 With Stuffing
Pork, chips & gravy
£3.60
Lunchtime Special 2 Curry
- Pork & chips
- Chinese chicken curry & chips
- 4 Cod bites, sausage & chips
Available between 11.30am-3.30pm
£2.80
Lunchtime Special 2 Gravy
- Pork & chips
- Chinese chicken curry & chips
- 4 Cod bites, sausage & chips
Available between 11.30am-3.30pm
£2.80
Lunchtime Special 2 Peas
- Pork & chips
- Chinese chicken curry & chips
- 4 Cod bites, sausage & chips
Available between 11.30am-3.30pm
£2.80
Lunchtime Special 2 Regular
- Pork & chips
- Chinese chicken curry & chips
- 4 Cod bites, sausage & chips
Available between 11.30am-3.30pm
£2.50
Lunchtime Special 2 With Drink
- Pork & chips
- Chinese chicken curry & chips
- 4 Cod bites, sausage & chips
Available between 11.30am-3.30pm
£3.00
Deal 1
9" pizza with your own 3 toppings & chips
£4.75
Deal 2
12" pizza with your own 3 toppings, chips, garlic bread & 2L bottle of soft drink
£9.99
Chicken Deal Curry
6 Pieces of southern fried chicken, 2 large tray chips, large beans, curry OR gravy & 2L bottle of soft drink
£8.99
Chicken Deal Gravy
6 Pieces of southern fried chicken, 2 large tray chips, large beans, curry OR gravy & 2L bottle of soft drink
£8.99
Chicken Deal Large Beans
6 Pieces of southern fried chicken, 2 large tray chips, large beans, curry OR gravy & 2L bottle of soft drink
£8.99
Chicken Dipping Deal
2 Pieces of southern fillet strips, 3 fillet nuggets, 3 hot wings & any dip
£2.50
Contact Us
Find Us
3 Castle Street, Bilston, WV149DP
We deliver to
DY1, DY2, DY3, DY4, WV1, WV14, WV2, WV4