About Us
Scoffs Fish Bar & Pizzeria is a Fish & Chips takeaway in Bilston. Why don't you try our Sauce or Chips?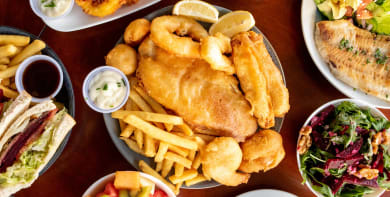 Reviews
230 reviews
ivan
"hot food"
02/07/2021
Martin
"Have been using scoffs for years and never had any problems. We always recommend them to neighbours and friends ."
29/06/2021
Toni
"Excellent"
19/05/2021
Tracy
"Excellent completely satisfied"
01/05/2021
Menu
Chicken Deal Curry
6 Pieces of southern fried chicken, 2 large tray chips, large beans, curry OR gravy & 2L bottle of soft drink
£8.99
Chicken Deal Gravy
6 Pieces of southern fried chicken, 2 large tray chips, large beans, curry OR gravy & 2L bottle of soft drink
£8.99
Chicken Deal Large Beans
6 Pieces of southern fried chicken, 2 large tray chips, large beans, curry OR gravy & 2L bottle of soft drink
£8.99
Deal 1
9" pizza with your own 3 toppings & chips
£5.50
Deal 2
12" pizza with your own 3 toppings, chips, garlic bread & 2L bottle of soft drink
£11.99
Margherita 9" Small
100% Cheese & our special blended sauce
Vegetarian
£4.00
Margherita 12" Deep Pan
100% Cheese & our special blended sauce
Vegetarian
£7.00
Hawaiian Paradise 9" Small
Ham & pineapple
£5.25
Hawaiian Paradise 12" Deep Pan
Ham & pineapple
£8.50
Ham & Mushrooms 9" Small
Ham & mushrooms
£5.25
Ham & Mushrooms 12" Deep Pan
Ham & mushrooms
£8.50
Pepperoni Plus 9" Small
Pepperoni, onions & green peppers
Hot
£5.25
Pepperoni Plus 12" Deep Pan
Pepperoni, onions & green peppers
Hot
£8.50
Vegetable Inferno 9" Small
Onions, green peppers, mushrooms & jalapenos
Vegetarian
Hot
£5.25
Vegetable Inferno 12" Deep Pan
Onions, green peppers, mushrooms & jalapenos
Vegetarian
Hot
£8.50
BBQ Chicken 9" Small
BBQ sauce, chicken, onions & sweetcorn
£5.25
BBQ Chicken 12" Deep Pan
BBQ sauce, chicken, onions & sweetcorn
£8.50
Farmhouse 9" Small
Mushrooms, onions, tomato slices & green peppers
Vegetarian
£5.25
Farmhouse 12" Deep Pan
Mushrooms, onions, tomato slices & green peppers
Vegetarian
£8.50
Flamethrower 9" Small
Pepperoni, spicy beef, onions & jalapenos
Hot
£5.25
Flamethrower 12" Deep Pan
Pepperoni, spicy beef, onions & jalapenos
Hot
£8.50
Meat Supreme 9" Small
The meaty one! Pepperoni, ham, spicy beef & chicken
£5.25
Meat Supreme 12" Deep Pan
The meaty one! Pepperoni, ham, spicy beef & chicken
£8.50
Kebab King 9" Small
3 Types of kebab meat, onions & peppers
£5.50
Kebab King 12" Deep Pan
3 Types of kebab meat, onions & peppers
£8.95
Faggots, Chips, Peas & Gravy
£4.50
Donner Kebab Chips & Salad
£5.00
Donner Kebab Large Pitta Bread
£5.00
Chicken Kebab Meat No Salad
£4.50
Chicken Kebab Chips & Salad
£5.50
Chicken Kebab Large Pitta Bread
£5.75
Chicken Tikka Kebab Large Pitta Bread
£4.30
Chicken Tikka Kebab Naan Bread
£4.40
Chicken Tikka Kebab Chips
£4.95
Chicken Tikka Kebab Meat No Salad
£5.20
Chicken Tikka Kebab Chips & Salad
£5.50
Mixed Kebab (3 Meats) Bun
£3.80
Mixed Kebab (3 Meats) Wrap
£4.50
Mixed Kebab (3 Meats) Naan Bread
£4.80
Mixed Kebab (3 Meats) Chips
£5.95
Mixed Kebab (3 Meats) Chips & Salad
£6.45
Mixed Kebab (3 Meats) Large Pitta Bread
£6.50
Mixed Kebab (3 Meats) Meat No Salad
£7.20
Salad - Large Pitta Bread
£3.00
Mixed Pork & Chicken - Chips
£3.80
Cheeseburger
Quarter pounder burger with cheese & a choice of salad & sauce
£2.60
Chicken Fillet Zinger Burger Without Cheese
Chicken fillet zinger burger & a choice of salad & sauce
£2.20
Chicken Fillet Zinger Burger With Cheese
Chicken fillet zinger burger & a choice of salad & sauce
£3.30
Half Pounder Cheeseburger
2 x Quarter pounder burgers with cheese & a choice of salad & sauce
£4.00
Vegetarian Burger Without Cheese
Vegetarian burger & a choice of salad & Sauce
£2.00
Vegetarian Burger With Cheese
Vegetarian burger & a choice of salad & Sauce
£2.80
Zinger Fillet with Cheese Burger
£3.20
Southern Fried Brest Fillets (2)
£0.99
Pepperoni Melt Wrap
Pepperoni, onions, cheese & sauce
£3.70
Roasted Vegetable Melt Wrap
Onions, mushrooms, red & green peppers & cheese
£3.70
Chicken & Ham Melt Wrap
Sauce, chicken, ham, cheese & mayo
£3.70
Garlic Bread
4 Slices of traditional garlic bread
£2.70
Cheesy Garlic Bread
4 Slices topped with mozzarella
£2.50
Southern Fried Chicken Fillet Strips
3 pieces
£2.00
Kids Fish Bites (3) Without Funbox & Toy
£1.99
Kids Fish Bites (3) With Funbox & Toy
£2.99
Kids Roe Without Funbox & Toy
£1.99
Kids Roe With Funbox & Toy
£2.99
Kids Nuggets (3) Without Funbox & Toy
£1.99
Kids Nuggets (3) With Funbox & Toy
£2.99
Kids Jumbo Sausage Without Funbox & Toy
£1.99
Kids Jumbo Sausage With Funbox & Toy
£2.99
Meal Deal 1 Curry
4 Fish bites & chips
£2.50
Meal Deal 1 Gravy
4 Fish bites & chips
£2.50
Meal Deal 1 No Peas, Curry Or Gravy
4 Fish bites & chips
£2.50
Meal Deal 1 Peas
4 Fish bites & chips
£2.50
Meal Deal 2 Curry
Tinned roe & chips
£2.50
Meal Deal 2 Gravy
Tinned roe & chips
£2.50
Meal Deal 2 No Peas, Curry Or Gravy
Tinned roe & chips
£2.50
Meal Deal 2 Peas
Tinned roe & chips
£2.50
Meal Deal 3 Curry
Jumbo sausage & chips
£2.50
Meal Deal 3 Gravy
Jumbo sausage & chips
£2.50
Meal Deal 3 No Peas, Curry Or Gravy
Jumbo sausage & chips
£2.50
Meal Deal 3 Peas
Jumbo sausage & chips
£2.50
Meal Deal 4 Curry
1 Piece of southern fried chicken & chips
£2.50
Meal Deal 4 Gravy
1 Piece of southern fried chicken & chips
£2.50
Meal Deal 4 No Peas, Curry Or Gravy
1 Piece of southern fried chicken & chips
£2.50
Meal Deal 4 Peas
1 Piece of southern fried chicken & chips
£2.50
Meal Deal 5
Donner meat & chips
£3.00
Meal Deal 6 Curry
4 Fish bites, sausage & chips
£3.00
Meal Deal 6 Gravy
4 Fish bites, sausage & chips
£3.00
Meal Deal 6 No Peas, Curry Or Gravy
4 Fish bites, sausage & chips
£3.00
Meal Deal 6 Peas
4 Fish bites, sausage & chips
£3.00
Meal Deal 7 Curry
Tinned roe, sausage & chips
£3.00
Meal Deal 7 Gravy
Tinned roe, sausage & chips
£3.00
Meal Deal 7 No Peas, Curry Or Gravy
Tinned roe, sausage & chips
£3.00
Meal Deal 7 Peas
Tinned roe, sausage & chips
£3.00
Meal Deal 8
Any 9" pizza with your own 3 toppings & chips
£4.95
Meal Deal 9 No Stuffing
Pork, chips & gravy
£3.60
Meal Deal 9 With Stuffing
Pork, chips & gravy
£3.60
Meal Deal 10 No Stuffing
Chicken, chips & gravy
£3.60
Meal Deal 10 With Stuffing
Chicken, chips & gravy
£3.60
Meal Deal 11 Mediterranean
Small chicken kebab meat & chips
£3.60
Meal Deal 11 Tikka
Small chicken kebab meat & chips
£3.60
Meal Deal 12 Curry
Mini fish, sausage & chips
£3.60
Meal Deal 12 Gravy
Mini fish, sausage & chips
£3.60
Meal Deal 12 No Peas, Curry Or Gravy
Mini fish, sausage & chips
£3.60
Meal Deal 12 Peas
Mini fish, sausage & chips
£3.60
Meal Deal 13 Curry
Any pie & chips
£3.60
Meal Deal 13 Gravy
Any pie & chips
£3.60
Meal Deal 13 No Peas, Curry Or Gravy
Any pie & chips
£3.60
Meal Deal 13 Peas
Any pie & chips
£3.60
Meal Deal 14 Curry
2 Pieces of southern fried chicken & chips
£3.60
Meal Deal 14 Gravy
2 Pieces of southern fried chicken & chips
£3.60
Meal Deal 14 No Peas, Curry Or Gravy
2 Pieces of southern fried chicken & chips
£3.60
Meal Deal 14 Peas
2 Pieces of southern fried chicken & chips
£3.60
Meal Deal 15
Chinese chicken curry & chips
£3.60
Contact Us
Find Us
3 Castle Street, Bilston, WV149DP
We deliver to
DY1, DY2, DY3, DY4, WV1, WV14, WV2, WV4